---
Funkadesi
My friend Carlos Cornier plays congas with an ensemble in Chicago called Funkadesi. They are an exuberant fusion of rasta reggae, bangra, latin and rock with touches of funk, township and house chucked in for good measure. Their musicianship is excellent and their arrangements are as tight as cycle pants. This is celebratory stuff. If you are ever going to have a party — and I think that you should — then these are the perfect sounds to make you guests shout 'This is different!' while being propelled helplessly onto the dance floor.
You can find Uncut Roots at amazon.uk and look out for It's About Time. Their website is at www.funkadesi.com. Listen up for samples of Uncut Roots on amazon.com.
January 2005
---
Khachaturian and put it in your pocket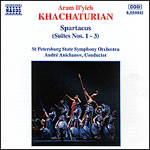 Fans of
The Hudsucker Proxy
or
The Onedin Line
will immediately recognise the
Adagio of Spartacus and Phrygia
. Those familiar with the first will have an image of Tim Robbins boyishly grinning and saying 'You know, for the kids', where fans of the latter will associate the music with the rolling waves. Aram Il'yich Khatchachurian was actually thinking of the slave Spartacus who led a rebellion against the Roman Empire (and Kubrick's movie about who inspired the 'I'm the real Brian' scene in
The Life of Brian
).
Spartacus premiered in 1954, the year after Stalin's death, when the Soviet state still associated itself with the brave revolutionary rather than totalitarian Rome. So Khatchurian, who had been condemned alongside Shostakovitch and Prokofiev a few years before, was made a People's Artist with the release of this marvellous ballet suite rather than being sent off to the gulag.
The famous Adagio is a soaring and beautiful piece, but it is well worth buying the Naxos disc of the Spartacus Suites 1-3, which is played by the St Petersburg State Symphony Orchestra with suitable gusto. Heavy Metal fans of Tchaikovsky or One Minute Silence alike should enjoy this rousing work. As ever with Naxos the price is eminently reasonable, and the recording is excellent (and absolutely digital).
April 2004
---
Touch
In March 2004, the Touch album was re-released on CD. As the sleeve notes say this album is a bridge from psychedelic to progressive music. Recorded in 1968, it remains one of the highpoints of the form. Hendrix actually offered to fund recording after watching them record. If you like
The Court of the Crimson King
,
The Yes Album
, ELP, early Floyd or the Moody Blues, the chances are that you will like this fine album.
Joe Newman
's amazing solos are noted in
The Guitarists
, and I am writing a piece about the band, but don't wait for me — be sweet to yourself and
buy their album
.
March2004