Dick Heckstall-Smith was a significant musician in an era in which music has had immense significance. The merging of blues and jazz in the London scene of the early sixties gave birth to the international blues boom, to blues-rock, to jazz-rock and to progressive music. Dick was there from Georgie Fame's Blue Flames through Alexis Korner's Blues Incorporated to the Graham Bond Organization to the immortal Colosseum and beyond.
Dick was part of the small core of virtuoso musicians who inspired the rest of us to listen and to play, way back then. In the Bond Organization he worked with Ginger Baker and Jack Bruce, before they formed the fabulous bop-blues ensemble Cream, and with John McLaughlin who would unite British and American jazz so overwhelmingly with the Mahavishnu Orchestra.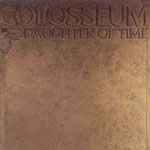 Colosseum was the most original union of blues and jazz to emerge in the 1960s. For once, a British band had all of the chops of the American jazzers fused with the down-and-dirty feel of deep blues. This was safely housed in a comprehension of classical composition (for which keyboard player Dave Greenslade should probably take some of the blame). Dick Heckstall-Smith provided one memorable solo after another, as well as writing or co-writing several of Colosseum's finest pieces. For a taste of his exqusite phrasing and emotive power, listen to
Downhill and Shadows
on
Daughter of Time
.
Decades after their parade of triumphant albums in the late 60s and early 70s, Colosseum were asked to reform for a TV special and some gigs in Germany. As they prepared, Dick went into hospital for a check-up. Out of the blue, the newly reformed Colosseum lost its fantastic sax player. Dick died in hospital on December 17 th , 2004.
Colosseum regrouped with the only possible replacement — Barbara Thompson, who played on the first three albums alongside Dick, as well as being an eminent leader herself and the spouse of Colosseum's founder, drummer Jon Hiseman.
So the gigs became a tribute to the great musical talent of Dick Heckstall-Smith, raising money for music teaching charities. A stream of luminaries flowed across the stage for five hours at the Astoria delighting an enthusiastic house.
Dick played his last gig with the fine blues performer Eddie Martin who opened. Pete Brown — the co-author of many of Cream's best songs — MCed and led his own excellent band. John Etheridge made an all too brief appearance with the DHS tribute band.
Many wonderful musicians streamed across the stage, but the most tranfixing moments came when Jules Fothergill took his solos, first with the John O'Leary Band and then with Mick Taylor. Bear in mind that this was a night of guitar giants — Etheridge, Taylor, Moore, Litherland and Clemson — but Fothergill wasn't in the least fazed. He looked more like a kid delighted and surprised to find himself in the middle of the sweet shop. As he played, he grinned and shuffled while he ripped apart the very air. The musician friends who took me to the gig had exactly the same wowed response that I did, and from the jubilant applause so did everyone else. We saw some of the magnificent old guard of the sixties still with plenty of fire joined on stage by a legend of the future. The O'Leary Band also guested some fine guitar work by eminent session player Winston Delandro.
After the interval,
James Litherland
performed one of his own haunting pieces with Barbara Thompson noodling beautifully beside him. Litherland was the original Colosseum frontman, providing both a finely hued voice and an exuberant guitar style. He returned to perform his classic
Elegy
with Colosseum later. It seems improbable that anyone can give as strong a performance over thirty years beyond the youthful rendition of such energetic music, but Litherland, and indeed all of Colosseum, managed to do exactly that.
Litherland set the stage for one of the titans of music — the brilliant Jack Bruce — fresh from his triumphant Albert Hall reunions with Cream. This time, the trio consisted of Gary Moore on guitar and Gary Husband on drums, surely a band to equal even Cream. My sole criticism of this fabulous evening must be Gary Moore's sheer volume. Although his playing was, as ever, faultless, he all but drowned Husband. I happen to be a devoted fan of Gary Husband, so I have to include this lament. Moore's playing was note perfect and his tone was beautiful, but it sliced away too many brain cells for my liking. It was wonderful to hear a bunch of Cream songs, but I would have liked something from Bruce's excellent recent album,
More Jack Than God
, too.
Then came the highlight of the evening - Colosseum, of course, sadly minus DHS. Colosseum were probably the tightest band on the British scene when I saw them in 1970. These several decades later I would have expected some slackening, but if anything they were even tighter.
Dave Clemson kept his position in the front rank of guitarists, maintaining a smooth, fluid line of attack. The great Jon Hiseman's drumming was precise and he played another of those showman solos — passing sticks from hand to hand while continuing to play, then juggling a third from hand to armpit. Exhibitionist as ever. He approached the material in a more solid style — closer to a contemporary rock drummer than his original awesome and unique fusion approach, but I have no complaints. Mark Clarke played fine bass and provided the occasional excellently bellowed vocal. Greenslade kept everything knitted together as well as dashing off a couple of fine solos. Barbara Thompson did a grand job of substituting for the master, an all but impossible task. Chris Farlowe was a revelation — perfect phrasing throughout and several of those patented howls. Every musician in the band belongs with the best.
The audience feel was wonderful, building with the evening. A tumult brought Colosseum back on stage to a brilliant close.
Altogether, probably one of the gigs of the year, and Pete Brown's suggestion that we meet in Dick's name each year is a good one.
Dick Heckstall-Smith: 26 September 1934 - 17 December 2004.
June 2004