Duchamp
, from Joyce to Kandinsky — were broken and wrecked by the
Great War
. Individualism was roped into the service of ideologies. The Italian Futurists joined up with Mussolini. Out of Dada came Surrealism with its Marxist-Freudian agenda. The last aspirational centre, the Bauhaus, was closed by the Nazis. Great art was made, but in technical execution and breadth of meaning it was decline and deconstruction from then on.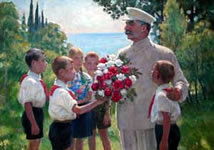 Beyond the first world, the totalitarian 'communist' states abolished individuality, and with it art. In Russia, China and Cambodia, they stopped the clock and then smashed it. Kitsch became the paradigm for the socialist workers' paradise. On the brighter side of the iron curtain, the capitalist world abandoned itself to a burgeoning popular culture. With the trickle-down of wealth — increasingly acquired by blithe exploitation of the Third World — the dominant forms were jazz, rock, rap, the movies, TV and eventually MTV. Soon enough, even the culture vultures ignored Stockhausen, and the general public fell asleep at Andy Warhol premieres. Only self-consuming coke-heads could sustain such a wasteland of accidie.
And that very barren wasteland makes this the most exciting time for all artists. So much blank space to fill! So many dreams to awaken! The Dadaist debunking of art ready at last to be debunked. The old nonsense they ridiculed quite properly razed. New forms burgeoning and beginning to trip across the stage. Popular culture now in some places so refined that it readily equals the very highest of art, so providing bases for infinite recombining.
July 2005